Welcome to the Jacksonville Gator City Senate of TNBA
The Senate 
The Jacksonville Gator City Senate is a chapter of The National Bowling Association (TNBA) which boasts a membership of more than 23,000. Our local chapter serves Jacksonville Florida, the Metropolitan area of Duval and the surrounding area including St. Johns, Orange Park, Nassau and Baker counties. Our purpose is to promote the sport of bowling in an atmosphere of unity and equality, serve as a point-of-entry for young bowlers to receive encouragement, tutelage and guidance in learning and becoming successful in both the sport off bowling and competition; to promote the TNBA motto "Sportsmanship, Fellowship and Friendship". Our senate is growing and from 2011 to 2020 has become one of the largest in the state of Florida with more than 240 members. The Gator City Senate is strong and poised for future success.
Our local chapter was established in the 1980's; Thomas Watson served as the first senate president in it's early years and other presidents included:  June Dowdell, Gert Harris, Sam Brown, James Robinson, (King) Victor Pringle, Gloria Smith and our current President Carolyn Lynn. Current senate officers include:  
President:  Carolyn D. Lynn
Vice President:  Haylan (Andre) Washington
Secretary:  Nichelle Meadows
Treasurer:  Bessie Belton
Sargent-at-Arms:  Daryl Meadows Sr.
Public Relations Director:  Mark S. Lynn
Tournament Director:  Haylan (Andre) Washington
Chaplin: Ricky Burney
TNBA "A Hard Road to Glory"
The National Bowling Association, Inc. is a non-profit corporation organized in August 1939, in Detroit, Michigan, for the express purpose of encouraging Blacks to develop their skills in the game of Ten Pins. It was originally known as the "National Negro Bowling Association"; because at the time of its birth, Blacks and other Non-Caucasians were not permitted to belong to ABC or WIBC; due to certain restrictive clauses in their constitutions. Since our membership included a large number of Asians, Hispanics, Native Americans and people of color other than Black; in 1944 our organization was renamed, "The National Bowling Association, Inc." We actively participated in the fight for "Equality in Bowling"; and in 1950, both ABC and WIBC removed the Non-Caucasian clauses from their constitutions. Since 1951, TNBA members have enjoyed the privilege of competing in all open sanctioned leagues and tournaments.
TNBA proudly stands behind its motto as a "Promoter of Sportsmanship, Fellowship and Friendship"
TNBA National Officers
President:  G. Dewann Clark
Vice President: Dr. Michael Boykins
Executive Secretary/Treasurer: Annette R. Samuel
Senate Information
 Schedule of Meetings and Events
The Jacksonville Gator City Senate meets bi-monthly the fourth Sunday, at Batt Family Fun Center (Cassat Batt Bowl), 1838 Cassat Ave. Jacksonville, FL 32210 (904-389-2360), at 4:00pm unless otherwise notified (see annual election time below). Please make note of this and join us, your attendance is important for conducting senate business.
March    29, 2020 (cancelled) 
May       31, 2020                                 December TBA (Christmas Party)     
July      11, 2020 Election- 3PM          January   24, 2021               
August   9, 2020 Installation- 4pm
October  25, 2020                      
November 18th Deadline for Hall of Fame applications.
Download applications from the website see "Hall of Fame Applications"
The Gator City Senate Annual Meeting and Election will be held at 3:00pm on July 11th, at Cassat Batt Bowl. Deadline for prescreen officer candidate applications is July 6th, 2020 (postmarked). See the annual election tab (above and left) for more details and downloadable application. Hope to see you there! 
Deadline for Hall of Fame Applications is November 18th 2020, nominate a deserving senate member today, help to cement their legacy in Senate history!!!
Important Notice
The Sunshine Challenge 11:00am, Saturday Squad Application Process is Changing!
Interest in the 11:00am squad has grown over the years and to insure all that want to bowl that squad have an equal chance, a lottery system has been instituted.
* If you want to be a participant, simply turn in your complete application along with application fee to the Senate Secretary (Nikkie Meadows) by 5:30pm on drawing dates (TBA).
* All applications turned in for Drawing 1 are eligible for both drawings, no need to reapply.
* 9 applications will be selected in December and 10 in January (dates TBA) for a total of 19 winners.
* Applications not selected will be returned to the team captain's so that alternate times can be requested through the normal application process (there will be plenty of time to send in your application to Johanna).
* Winning numbers will be posted on the website and sent to the senate via email. The winning team captains will be notified (no substitutions at the senate level will be accepted after drawing, barring extenuating circumstances).
* The winning applications will be sent in for processing.
* Each individual application will receive a lottery number, the entry envelope will be signed by the entrant and the secretary.
* A fifty fifty style drawing will be conducted on the drawing dates. Good luck to all!
Senate Tournament- Postponement
The letter below was sent to the team captains on 3/16/2020, concerning postponement of our upcoming March 2020 tournament . Please work through them to exercise either of the two options contained in the letter. Individual requests will be referred back to the team captain to ensure smooth processing for all members of the squad.
Dear Team Captain,

We would like to provide you with an update on our 9th Annual Gator City Senate Tournament.  
Citing new federal guidelines discouraging large-scale public gatherings, the mayor of Jacksonville has issued an order banning establishments from having more than 50 people inside at once until further notice. Any establishment with a certificate of occupancy of more than 50 will now be limited to 50 people at one time. Starting at 5:00pm EST yesterday. Our Mayor has also banned the sale of alcohol between the hours of midnight and 8 a.m.

Taking in consideration of the new federal, local guideline and our priorities to provide a safe and enjoyable experience for everyone who participates in the tournament. We have made the decision to postpone the tournament until June 5, 2020.  
Please read carefully the information below providing you with two options:

Option 1:  You can secure your current spot in the 9th Annual Gator City Senate Tournament June 5 – 7 ,  2020 by using the confirmation letter (based on paid entry fees) received for the March 20 – 22 ,2020 tournament date.
Option 2:  You can receive a full refund for any tournament entry fees collected by the TNBA Gator City tournament for the March 20 – 22, 2020 tournament dates. You will have the opportunity to submit your applications for the June 5 – 7, 2020 tournament. No spots are guaranteed for June 5 – 7 tournament dates using this option.

Please email hwashing65@gmail.com or call (904) 635 – 2708 the tournament director with your decision. 
Thank you as always for your support of our tournament!
Andre Washington
TNBA Gator City Senate Tournament Director
Interested in Going to Tournaments?
 The Gator City Senate is forming a tournament committee to review, recommend coordinate applications, hotel accommodations and hospitality rooms (larger turnout tournaments); for those interested, the committee will make recommendations for travel including the most economical flights or bus transportation.
 Join the "TNBA Gator Tournament Crew"   for information on getting into the tournament crew request list contact your senate President Carolyn Lynn. Teams will be formed and a preregistration payment made to the tournament director to lock in dates and times.
Qualifications:
·         Must be a TNBA member in good standing (verifiable)
·         Be dependable (your partner and team are depending on you!)
·         Be able to pay by the deadline given (penalties for non-payment may apply)
·         Teams will be accepted and placement requests will be considered
Contact: Carolyn Lynn at 904-534-2643
Time to Renew your Membership Card
Senate members your cards for 2019/2020 will expire August 31, 2020. To take continued advantage of all your TNBA benefits you need to renew your membership by September 1, 2020 (can be purchased anytime during the year),  Don't throw that monster 300 game or 800 series and not be able to get your TNBA award. Remember your league must be TNBA certified to be eligible to receive your award. Contact your league secretary or a senate officer for details.
Want to become a Member?
Join us we would love to have you! Contact your league secretary or a senate officer. You can also email us and we'll direct you on what to do. Membership fees are $21.00. It allows you to enter TNBA sanctioned tournaments such as ours coming in March 2019 and other senate, regional and national tournaments. Your honor scores win you awards that include rings and plaques ( http://www.tnbainc.org/general-awards ). You can participate in TNBA events and functions including representing Jacksonville at the National Convention held annually. Come be a part of the fun! 
Senate Tournament Colors
The Gator City Senate's official colors are Kelly green and white, however, for tournaments our colors for team competition are black senate shirt, gold writing and khaki pants or skirt. Senate shirts and other gear can be purchased from APS Promotional Solutions (they know our requirements) at:
7121 Beach Blvd.
Jacksonville, FL 32216
Tel 904 721 4977 or 866 276 1423
Fax 904-721 4959
email aps@apstitch.com
Gator News
Senate Election
Elections will be held for Vice President and Secretary during the annual meeting on July 11, 2020; Carolyn Lynn- President, Bessie Belton- Treasurer and Daryl Meadows Sr.- Sargent at Arms, will be up for reelection. Installation will be held on August 9th at the Senate installation meeting.
The Gator City Senate had one championship team in the Sunshine Challenge winning the Men's Classic division!!! Great job on a tough win!!!!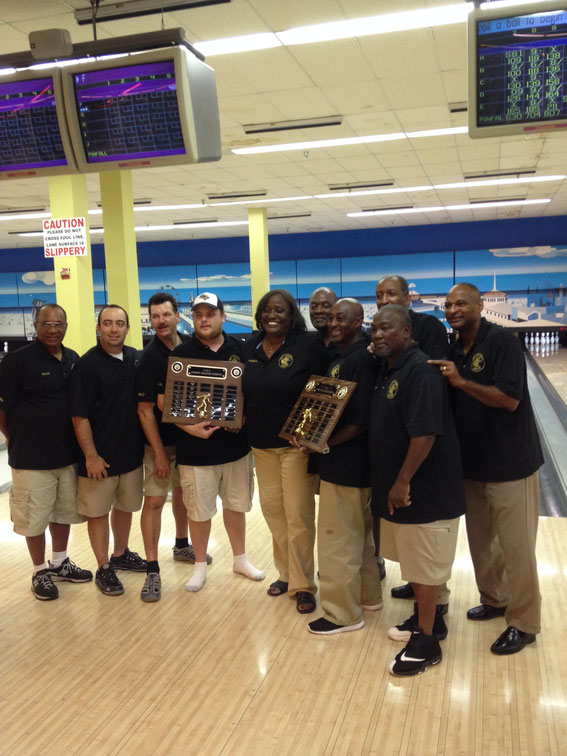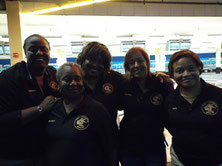 Senior Women's Challenge Champions
Chalk up one for the veterans. During the2013 Florida Sunshine Challenge held in Orlando Florida. The team of Carolyn Lynn, four time sunshine challenge champion, Debra Caldwell, three time challenge champion, Jackie Rhodes, two time challenge champion; Gloria Smith challenge veteran and Carmen Merced, challenge rookie; both will become champions and earned their stripes before the day was done. The Jacksonville senior women took on a game Orlando team, veterans themselves, confident and up for the challenge in the first round of competition. The contest was spirited with strong crowd support and plenty of trash talking. The Orlando crew bowled well but succumbs to the strong Jacksonville team during the latter frames earning them a win and second round bye.  Reentering the tournament in the final round against their arch rival Miami, Jacksonville was ready to take the championship for the glory of the senate. Debra Caldwell got the team going early and feed off of the energy finishing the match with a 260 plus game. The rest of the ladies rose to the occasion posting strong scores and beating their competitors by more than 300 pins. The senior women's team took home the plaque and the honor of being the best of the best in FloridaJ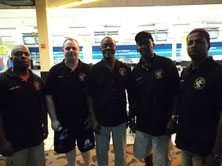 Men's Junior Division Team
A strong team the men came close to winning the title in the championship game but were bit late by an excellent Tampa Team. They represented the senate well and will be back next year to challenge again for the title they held just four years ago.
Women's Junior Division Team
A proud group of very talented ladies the Jacksonville women's junior team was a mixture of veterans and first time challenge competitors. Game and ready to compete they fell short in the first round to Tampa who went on to win the challenge. Jacksonville is proud of their game effort and look forward to you winning bragging rights next year J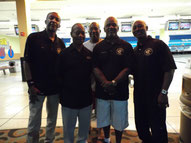 Men's Senior Division Team
Seasoned Veterans and consummate competitors the men's senior team came to within a couple of pins of bringing home the trophy and bragging rights to Jacksonville. In the finals against Miami these evenly matched teams slugged it out all the way to the last man. KUDO's to all our brave competitors, we'll be bragging all the way home the next time we meet!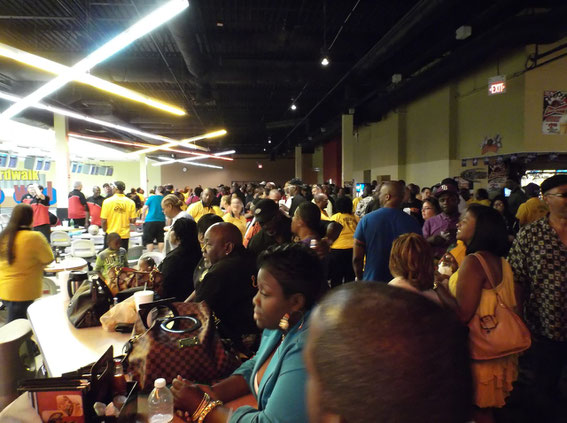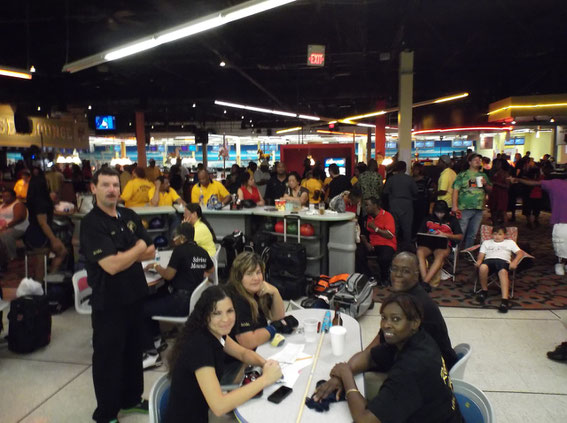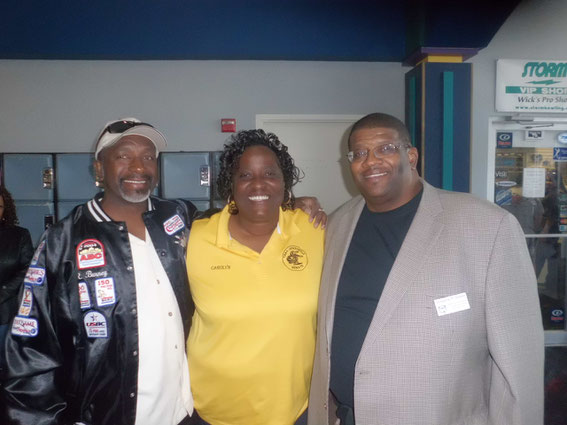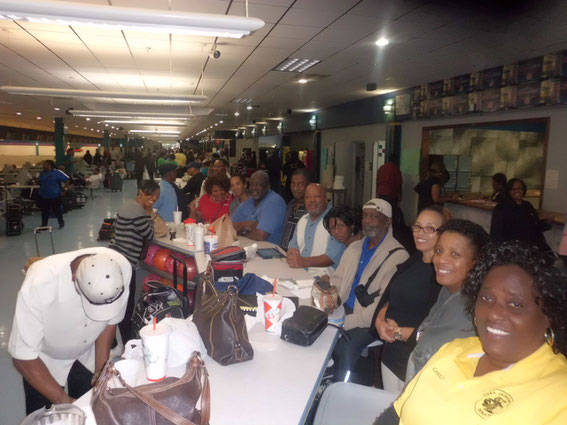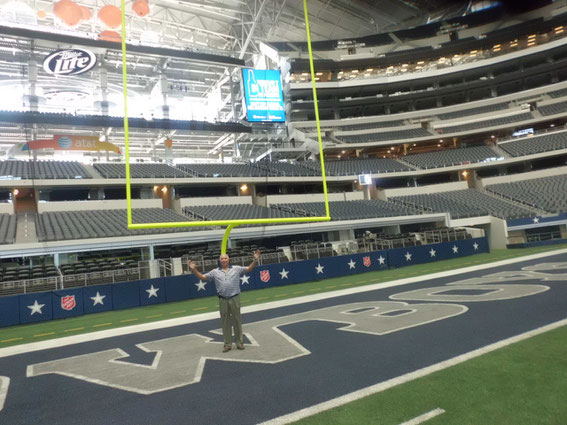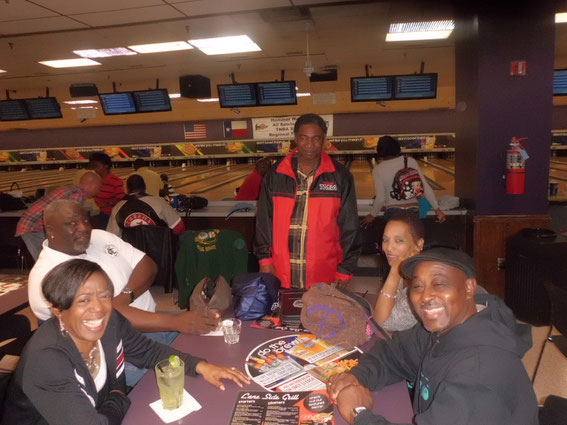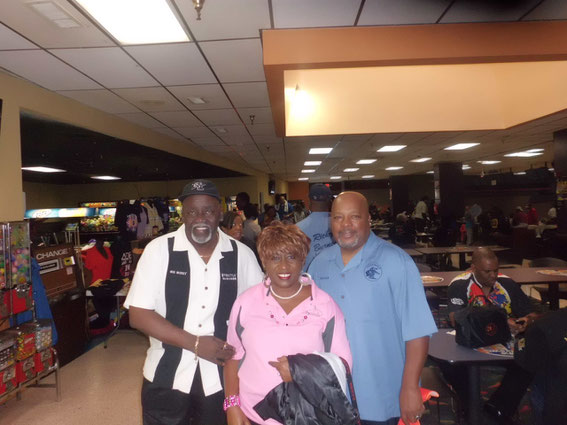 The Presidents Corner: January-2018
To our Gator City Senate members; as your President for the past five years, I'm thankful to you all for your support! Thank you for assisting me with continuing to make our organization a great one. As  I have stated in the past, this office is one of service and privilege! I consider it both an honor and a tremendous opportunity to serve all of you!
We have experienced extraordinary organizational growth over this period and achieved financial stability; our membership continues to grow, and is more than 200 strong! Great new relationships have been developed and our reputation continues to spread throughout the southeast and at the national level. We have accomplished many of our expected goals but the one I'm most proud of is our desire to become one of the most successful and well respected senates in the country.
We will continue our path towards growth and success but cannot accomplished any of this without the commitment from each of you and the efforts of our dynamic and outstanding team of officers and executive committee members! Listed below, is a few of the senate's accomplishments: we have hosted four successful TNBA Senate Tournaments and are currently preparing for our 9th on March 21, 2020! We have represented our Senate at four TNBA National Conventions and two summer Presidents Board Meetings; our bowlers have also been featured in several "Bowler" magazine articles. We added an annual hall of fame awards banquet and participated in the national organizations fund raising activities by purchasing a brick to be placed on the TNBA Walk of Fame at the national headquarters in 2015. Our senate further demonstrated its dedication to TNBA by supporting the southeastern regions candidates for TNBA King and Queen and youth bowlers through contributions to the organizations scholarship fund. We hosted the 2015 Sunshine Challenge Tournament and conducted the 50/50 drawings and dance that were both extremely successful; and secured  an Increased number of guaranteed slots for the 11:00 a.m. squad that any senate member can take advantage of. There are many more ideas in the works for the future as we continue to grow. Remember you can purchase senate gear through APS, online; Finally, kudos to the development of our website! Don't hesitate to contact, our webmaster (Mark Lynn) if you have information, pictures or stories you would like to post on the website!
I'm both anxious and excited to see what the future holds for our senate. We have created a continued momentum of success that has culminated in a truly magical rebirth and new beginning for Jacksonville bowlers. We must continue to honor our senate by focusing on being positive and avoiding the negative.
Let's move into this next year with love for one another and perpetuate the spirit of TNBA as we celebrate with Fellowship, Friendship and Sportsmanship!
Thanks once again to all and I'm looking forward to serving you in years to come!
Carolyn